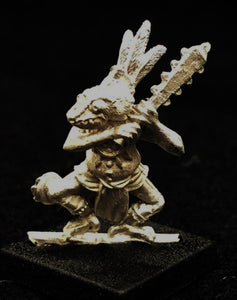 1 Random Infantry Figure of a Khamai Warrior.
We really enjoy these miniatures, and believe that if people get their hands (and paint brushes) on them, they will appreciate them as much as we do. To help with that, for a limited time, we are offering 1 random Khamai, at a discounted price. Limited to 1 per customer.
Supplied unpainted and unassembled. Cast in lead-free pewter.
Sculpted by Kevin Adams.
The Little Soldier Company miniatures are produced under license (outside of the United Kingdom and Europe) by Ral Partha Legacy Ltd.