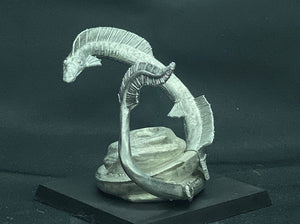 1 Creature.
Please note, there is an open socket at the top of the center rock pile, where other castings were attached to this piece as part of a diorama. The hobbyist will need to fill this socket with putty or cover it with another material. Supplied unpainted and unassembled. Cast in lead-free pewter. Any plastic bases shown in photos are not included.
Sculpted by Tom Meier.
Originally a part of Thunderbolt Mountain Miniatures SKU# TMM-1002/1003
Thunderbolt Mountain Miniatures produced under license by Ral Partha Legacy Ltd.
.