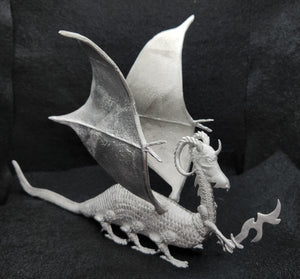 1 Large Multi-Part Miniature Kit.
Supplied unpainted and unassembled. Cast in lead-free pewter. This model has been reworked to strengthen the pins used to attach the wings to the body.  Please note:  This model kit will require use of a knife and file to fit the pieces together as desired.  Use of a putty, epoxy, or gap filler is suggested as well.  Not recommended for inexperienced modelers.
Sculpted by William Murray.
Originally produced by Old Guard Miniatures, Tekumel Journal, Tekumel Games, and finally PHD Games.
Sculpted to 1/64 scale, where the height of an average human soldier is represented as 25mm.