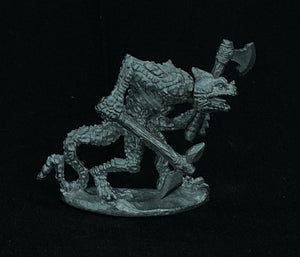 1 Infantry Figure, Multi-Part, with two heads to choose from.
Supplied unpainted and unassembled. Cast in lead-free pewter. Any plastic bases shown in photos are not included.
Sculpted by Tom Meier.
This miniature was one of the three intermediate sculpts Tom used to make the six Troglodytes that went into production in the 1980s. The Head was a seperate peice that plugged onto a neck peg, and the bodies did not yet have Weapons or Thumbs sculpted onto them. These were rediscovered in 2019, and Tom repaired the damage that they had suffered back when vulcanized in the early 1980s, and added Thumbs to the hands. Tom also sculpted a new head that can be added to the neck peg. Two random appropriately sized hand weapons are also included.
.