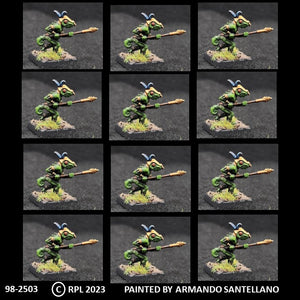 12 Infantry Figures with Weapons and shields. The image associated with this SKU shows some of the possabilities, but the exact ratios of specific sculpts may vary as needed .
Supplied unpainted and unassembled. Cast in lead-free pewter. Any plastic bases shown in photos are not included.
Sculpted to 1/64 scale, where the height of an average human soldier is represented as 25mm.
Sculpted by Kevin Adams.
The Little Soldier Company miniatures are produced under license (outside of the United Kingdom and Europe) by Ral Partha Legacy Ltd.
.