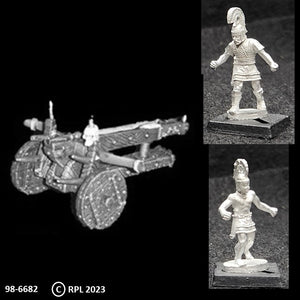 1 War Machine model kit and crew. A random variety of heads, bodies, and weapons will be provided. The image associated with this SKU shows some of the possabilities, but the exact ratios of specific sculpts may vary as needed .
Supplied unpainted and unassembled. Cast in lead-free pewter. Any plastic bases shown in photos are not included.
Crew Sculpted by Geoff Valley. Machine sculpted by Bob Olley.
Crew originally produced by Bull Dancer Miniatures.
Sculpted to 1/64 scale, where the height of an average human soldier is represented as 25mm.